Micro-Needling in St. Louis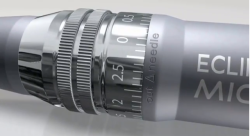 Micro-needling, also known as Collagen Induction Therapy, is a treatment used to help reduce the appearance of fine lines, acne scars, stretch marks, and improve skin's overall appearance. It causes minimal trauma to the skin, while still remodeling the collagen. The procedure is quick and requires little to no down time.
The Vein Center & CosMed uses the MicroPen for our micro-needling treatments. The MicroPen is the first completely cordless fractional automated micro-needling device and is made out of medical grade stainless steel. Tiny needles gently graze your problem areas, creating injuries to the skin. This results in the production of collagen & elastin, which are the building blocks to smooth, healthier looking skin! The MicroPen is a safe alternative to common skin resurfacing tools.
Contact the professionals at the Vein Center and CosMed to schedule your free, no obligation consultation.
Why we chose the Eclipse MicroPen...
Inherently safer and more sterile than other skin resurfacing tools.
High-speed motor creates a more comfortable experience for our patients (some describe the procedure to be sandpaper-like).
Each procedure is customized to fit our patient's needs.
Safety & control features lead to consistent results
All Cosmetic Treatments