Request Your


Free Consultation
Plasma Pen
Are you tired of crow's feet, laugh lines, drooping eyelids, necklines, stretch marks or sagging skin stealing your confidence? Rejuvenate and love your skin again with our Plasma Pen treatment. While this treatment is a NEW offering from our cosmetic team, our lead esthetician using the Plasma Pen has years of experience with Plasma Pen treatments and was one of the first to use this non-surgical alternative to assist with facial rejuvenation. At the Vein Center & CosMed, we are happy now to offer this as an everyday option for revitalizing your skin. Call us today to learn more or schedule an appointment.
What are the Results from Plasma Pen Treatments?
The old saying "an image paints 1,000 words" applies and we invite you to review some of the before / after photos shared below.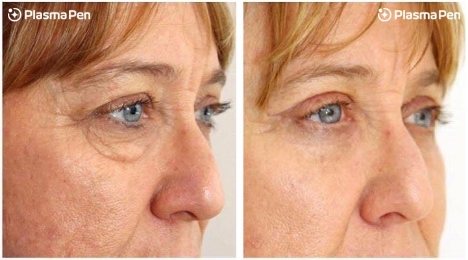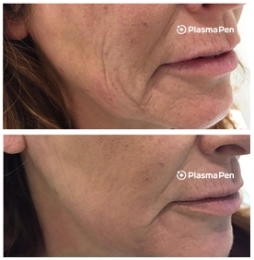 Why Use a Plasma Pen?
As we age, our skin gradually slows its production of collagen. This reduction in collagen may cause the skin to lose elasticity and thickness, which may increase the formation of wrinkles, skin sagging, or may lead to the skin being easily damaged. The Plasma Pen assists in improving the skin's composition by using plasma gas to significantly tighten, lift and energize the skin through the improvement of collagen production and this may renew the skin's overall appearance.
What is the Plasma Pen?
The Plasma Pen is the world's most advanced tool for noninvasive tightening and lifting of skin. The pen injects plasma gas into a designated area of the skin increasing the production of collagen and renewing elasticity that is lost with age. As a result of the treatment, skin looks visibly smoother and refreshed within a few days.
How is the Plasma Pen different from Cosmetic Surgery or other Invasive Procedures?
Unlike surgical treatments, the Plasma Pen procedure engages with the skins epidermal layer while thermally disrupting the deeper dermal structure non-surgically in order to strengthen and support areas that may have sagged, wrinkled, or stretched. This procedure accelerates the rebuilding of collagen, produced by connective tissue cells known as Fibroblasts that are typically dormant unless disrupted by a wound healing process or an inflammatory reaction. The Plasma Pen induces this reaction in a manner that is non-invasive and precisely delivered to the desired area without skin asymmetries or over-corrections. Unlike cosmetic surgery, these treatment minimize the healing process and offer minimal recovery time, no open wounds and long-lasting results.
What are outcomes may be experienced from the Plasma Pen?
Reduction of photoaging, superficial wrinkles and medium-depth wrinkles.
Skin tightening, lifting, regeneration and rejuvenation.
Softening of deep wrinkles